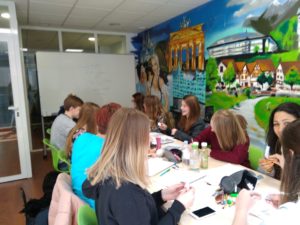 Intensive course
Weekly hours: 20 (in group)
In the first two classes you will learn grammar, do exercises and have your homework corrected. After a short break, the next session starts with another teacher you will practice what you have learned. Now is the time to focus on communication: You will practice group or couple dialogues and listen to the auditions in class to improve your listening comprehension.
The lessons can also take place in the afternoon
Sample weekly calendar:
Monday to friday

9:30 a.m – 11:00 a.m

Teacher A: New structures, textbook exercises, homework correction, etc.

11:00 a.m – 11:30 a.m

Break

11:30 a.m -1 p.m

Teacher B: oral exercises, conversation, partner exercises, listening comprehension, etc.
This course consists of 20 lessons per week in groups of 3 – 10 students. The first part of the course mainly includes grammar exercises and the correction of homework. After a short break, the next part of the class starts with the second Spanish teacher, who focuses on conversation. Group or pair dialogues are practiced and the pupils listen to audio texts to improve their listening comprehension.
All our courses are based on the official curriculum of the Instituto Cervantes, which has developed the Spanish language levels according to the recommendations of the European Framework of Reference. That is why we plan our lessons according to this learning principle with materials and resources that specialise in intensive language learning.
Our students learn written and oral comprehension in class and improve their pronunciation during didactic excursions with the teachers – for example when visiting the market, where the students practice the language with locals.
This course is designed for all those who want to make the most of their time in Málaga: After 1 pm our students have enough free time to get to know the city and the beautiful surroundings!
Intensive course