Teaching Spanish is our passion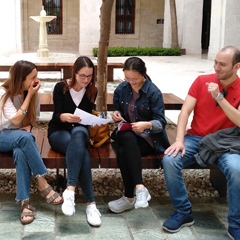 Language courses in Málaga
For successful language courses in Málaga, Spain, we offer Spanish courses at all levels throughout the year. We do not only organize professional high quality Spanish courses but also take care of an activity program, accommodation and transfers according to your wishes and needs. We are an Instituto Cervantes accredited school - with us you will be in good hands!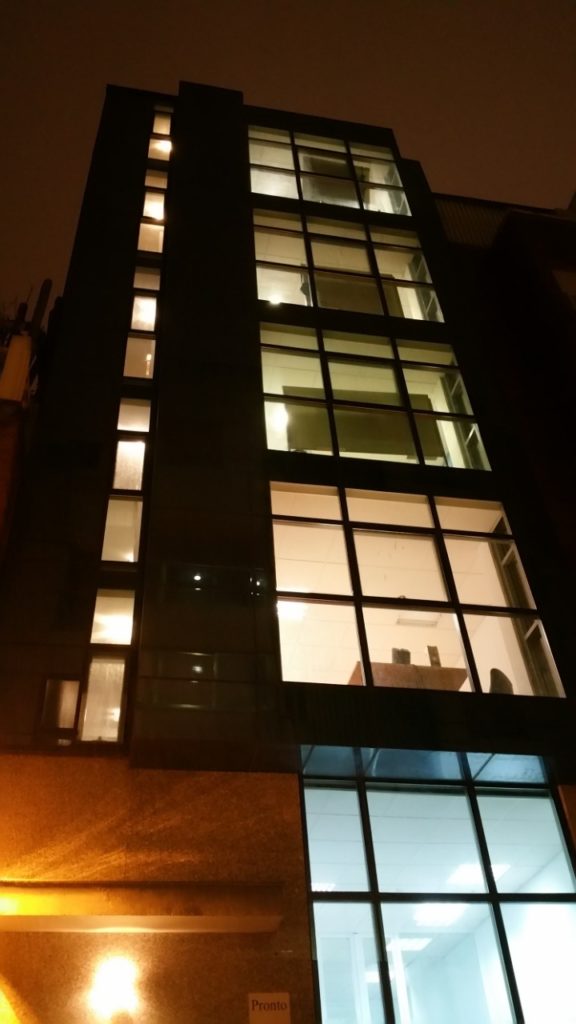 We are in the centre of Málaga
Our Academia AIFP language school is located in the commercial district in the centre of Malaga, in southern Spain, surrounded by shopping centres and cafés, in a building together with a German language school and a coworking space. All places of interest are reachable within a few minutes of walking: the famous sights, the historic old town, the modern port and of course the beaches of Malaga.
Activities and Excursions
This Spanish course in Spain should be a great step forward for you, but we also want you to have fun here. We offer numerous activities, partly with other students who learn Spanish, partly with Spaniards. Once a week we organize classes outside the school, varied and didactically prepared, where you learn Spanish and get to know Malaga and its culture in a playful way.
We take care of all the details
20 years of experience and thousands of satisfied students support us as one of the most recognized language schools in Andalusia. In our school AIFP we help you in all the details so that you learn Spanish as quickly as possible. This is what awaits you at our AIFP Academy:
Courses programmed to learn in a fun and innovative way
The possibility of choosing the accommodation you prefer
Activities and excursions every Thursday and tutorials every Tuesday
A multicultural environment where you can meet people from all over the world
Always working to make your stay as profitable as possible and your experience in Malaga is unforgettable.
We are waiting for you in Malaga!
Mes no encontrado
Testimonials
Me he divertido mucho y aprendido mucho, Arantxa y Juan son los mejores!
---
Alessandro
Italian
I loved the way the teachers taught. The activities were fun and I met lots of people. Thank you very much for everything.
---
Caterina
Portugal
He quedado muy contento con la Escuela AIFP. Me he divertido y he aprendido mucho. Tienen una enseñanza muy dinámica, en la cual todos los días aprendes algo nuevo. Las actividades son muy divertidas y didácticas. Espero poder volver pronto.
---
Michael
Germany
Teachers are very nice, always ready to help you and answer all kinds of questions. A lot of gramma lessons but never boring and classes are only in Spanish (my level A2) and I consider this as a great advantage. Recommend this Academia in 100% !
---
Zosia Wierzcholska
Poland
Teachers are great, the treatment of students is impeccable and the situation is most central, perfect for enjoying the center of Malaga, close to the beach and the touristic area of the city.
---
Alberto
Italian
Una escuela bien dirigida, todas muy amigables, agradables y serviciales. Las lecciones en el mercado y en la plaza de toros fueron geniales. Las clases son muy variadas e interesantes. Cristina es la leche.
---
Kirsten
United States
Ich habe eine Woche lang einen Kurs im November gemacht und kann die AIFP nur empfehlen. Die Gruppen sind klein, sodass die Lehrer gezielt auf alle Bedürfnisse und Fragen aller Schüler eingehen können und beantwortet werden können. Der Unterricht wird so gestaltet, dass es nicht nur trockener Grammatik-Unterricht ist, sondern das es Spaß macht die Sprache zu lernen. Das Hauptaugenmerk der Unterrichtstunden ist das Sprechen. Einmal die Woche wird ein Ausflug in das Stadtzentrum gemacht, mit kleinen Aufgaben um das Gelernte aus dem Unterricht in Alltagssituationen anwenden zu können. Das Schulgebäude ist groß und hell und mit Multimedia-Geräten ausgestattet und sehr zentral gelegen. Viele Geschäfte, Restaurants und Einkaufszentren sind neben der Schule. Bis zur Altstadt sind es nur 10 Minuten zu Fuß. Alle Mitarbeiter und Lehrer waren sehr freundlich und zuvorkommend und haben dafür gesorgt, dass ich mich während meines Aufenthalt in der Akademie wohl gefühlt habe :)
---
Louisa Walz
Germany
Vielen Dank für die schöne Zeit. Ihr seid ein tolles Team, ich komme sicher wieder! Bis bald Eure Irene
---
Irene Mathus
Austria
AIFP: your school of reference
Our AIFP Academy is recommended and officially recognized by the Instituto Cervantes as a quality school. The Instituto Cervantes is a public institution founded in Spain in 1991 to universally promote the teaching, study and use of Spanish language and to contribute to the diffusion of Hispanic cultures abroad.
The accreditation of the SICTED (Integral System of Quality in Spanish Tourist Destinations), identifies us as a quality teaching center and recognizes our efforts for continuous improvement to offer the best possible service to our students.
Furthermore, we are a member of the FEDELE (Spanish Federation of Schools of Spanish for Foreigners) which unites all those schools that have received the quality seal in teaching Spanish and the Certificate of accreditation of the Instituto Cervantes.