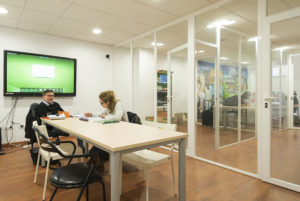 Silver course and Gold course
Weekly hours: 20 (in group) + 10/20 (private)
This option is recommended for people who wish to have two private lessons (10/20 lessons per week), in which you will be able to solve doubts, improve your skills, and focus on your own weaknesses.
Timetable
Monday to Friday

9:30 a.m – 11:00 a.m

Teacher A: New structures, textbook exercises, homework correction, etc.

11:00 a.m – 11:30 a.m

Break

11:30 a.m -1 p.m

Teacher B: oral exercises, conversation, partner exercises, listening comprehension, etc.

1p.m – 1:15 p.m

Break

1:15 p.m – 14:45 p.m

Private lessons Silver course and Gold course

14:45 p.m – 15:00 p.m

Break

15:45 p.m – 16:30 p.m

Private lessons Gold course
We recommend our silver and gold courses to all who would like to have private lessons as well as group lessons. From 9:30 a.m. to 1 p.m. the normal intensive course takes place in a group. In the silver course, for example, individual language problems are solved, or a DELE exam is prepared. If you want to learn Spanish even faster and more intensively, we offer you the Gold Course, which consists of 20 group lessons from 9:30 to 13:00, and 20 private lessons from 13:15 to 16:30 per week.
This is the perfect DELE preparation course where we prepare you for one for the oficial DELE exams (A1, A2, B1, B2, C1). Then you can choose either one of these taylor made courses or only private lessons to improve your individual language skills. We not only prepare you for the exam, but also help you with the registration process so that you can take the exam for example at Malaga University. The Instituto Cervantes fees are not included in the course price.
If you need Spanish for your job or want to improve your career chances, the silver and gold courses are perfect for you. For example, you can learn to deal with common business situations such as writing e-mails, making phone calls or other administrative tasks. You will learn the most important Spanish business vocabulary you need to master a variety of tasks in Spanish. The Spanish language will offer you more employment opportunities.
Silver course
Gold course