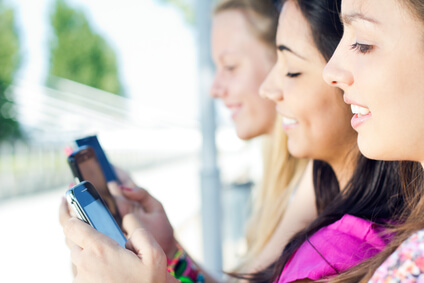 Top 10 apps for language learning
No one needs to be persuaded of the fact that knowledge of a foreign language is practically necessary in today's world. Mobile applications allow you to learn foreign languages anywhere, anytime of the day, for example, while sitting in the tram, going to work. What is more, they might help you if you´re already doing a course. That's why we've prepared a list of the best apps.
Busuuu
*you can learn only one language for free, to learn more languages you have to pay
*you can obtain a certificate
It is a free application, but you have to pay for some products available. The application allows us to learn up to 12 languages: English, German, Spanish, French, Italian, Turkish, Portuguese, Russian, Arabic, Japanese, Chinese and Polish. The advantage of learning from Busuuu is that it highlights everyday language, making it easier to practice. At the beginning of the course, phrases are introduced to teach the student how to introduce himself, ask for directions or order a meal in a restaurant. Thanks to the possibility of written communication with native speakers, we have the option of checking short written statements. The available cards, recordings and grammar exercises allow a relatively efficient assimilation of knowledge.
Duolingo
* grammar explanations etc. are missing.
*there's a lot of exercise
Learning foreign languages is only available in the English version of the application. Duolingo is a completely free application. There is no fee for any of the available courses or additional tools. The methodology itself is like a game. The lessons are not long, they focus on a specific topic and are followed by a test to test the knowledge. For the correct test solution you receive rewards (badges). If at the beginning of the course it turns out that we already know the subject of the lesson, we can skip it and move on to the next test.
SuperMemo
*can be used on the computer too
* has several thematic learning blocks
The authors of the applications state that the method developed makes it possible to shorten learning time by up to 30% compared to traditional language courses. Through the application we can learn languages such as: Basque, Chinese, Danish, Dutch, English, French, German, Greek, Italian, Norwegian, Russian, Portuguese, Spanish, Swedish and even Esperanto and Kanji. In addition, the courses are divided into the following blocks: general, vocabulary, grammar, photography, phrase books and exam preparation.  Different language courses are available at different prices. Learning can be synchronized with an online course or with a PC course.
Hello Talk Learn
*allows you to talk to native speakers
*paying you can get the translation
It is a free application designed rather for people who already know the basics of a particular foreign language. The program works as a social networking site where you can talk to people from all over the world. The ability to communicate with native speakers on any subject is a great support for the repetition of course content as well as for practice in everyday communication. Additional video materials, the ability to send text messages and make free calls through the application make learning more fun.
Memrise
*you can find classes like in the books
*you learn by playing
Downloading and using the application is free, but access to some of its features (for example, advanced statistics or access to a native speaker) requires a fee. Memrise is your place to practice vocabulary in a fun way. You'll find courses in almost every language you can imagine or invent, as there are also several dedicated to languages created by the vibrant user community. You can find standardized courses based on popular textbooks or vocabulary frequency lists, as well as less expected vocabulary collections. The courses are often combined with memes designed to help you remember vocabulary in a fun way. These memes are created by the community and everyone can add their own!
50 languages – 50 idiomas
* the audios are very good
*a huge choice of languages
This choice is for beginners only. Each material is divided into thematic sections, where the pronunciation and spelling of the word or phrase is found.  The audio files contained in the application can be used as a tool for the face-to-face classes of a language course in an academy. It can also be very useful for people who have learned a language for a long time but have not been able to practice it and need to remember its basic fundamentals. The standard phrases offered by the application are very useful if the user is travelling in a foreign country and needs to communicate in a hotel or restaurant. The application is available in 40 languages and in approximately 1,600 language pair combinations.
Quizlet Learn with Flashcards
*custom configuration
*collaboration with teachers is possible
The Quizlet is a free telephone application that allows you to learn a foreign language. The application differs from the previous ones in that the didactic material has to be prepared in advance by the teacher and made available to the student. However, this tool is a very good complement to traditional language courses in the classroom or online. The teacher can place memory cards, tests and audio files that the student can play or replay on his phone at any time. However, this does not mean that you cannot use the application on your own. Because some of the materials are available to the public, you can use the materials made available by other users to learn.
Rocket Languages
*uses a variety of learning methods
*very comfortable – you can listen to the dialogues everywhere
This application is available in English and allows you to learn Spanish, French, German, Italian, Japanese, Arabic, Russian, Hindi, Korean or Mandarin. In the free version, only a few lessons and tokens are available. Other materials, unfortunately, require the purchase of a paid version. The strength of the application lies in the correct pronunciation of words and phrases.
Babbel
*useful conversations in everyday life
*language clubs
Babbel helps you learn the right pronunciation with speech recognition software. Users can advance in the language through different lessons from beginner to advanced. Each section is specially designed and developed by didactic experts. The vocabulary is stored in a separate space, where the user can access it to remember or practice it. Vocabulary such as food, animals, colors, people or professions are represented with colored illustrations and the application asks the user to select the corresponding name. The creators of the application rely on conversation, writing and vocabulary selection exercises. Users can even meet in language clubs and compete against each other.
Audible
*offers a wide variety of products
*is payable
This is an application with direct access to audiobooks. Unfortunately, the application is fee-based and currently costs $14.95 per month. The user has access to several thousand book recordings read by professional readers in the chosen language. Listening to audiobooks in a foreign language reminds you of words and phrases from the language you've learned before, so it's a great way to practice listening and expand your vocabulary.