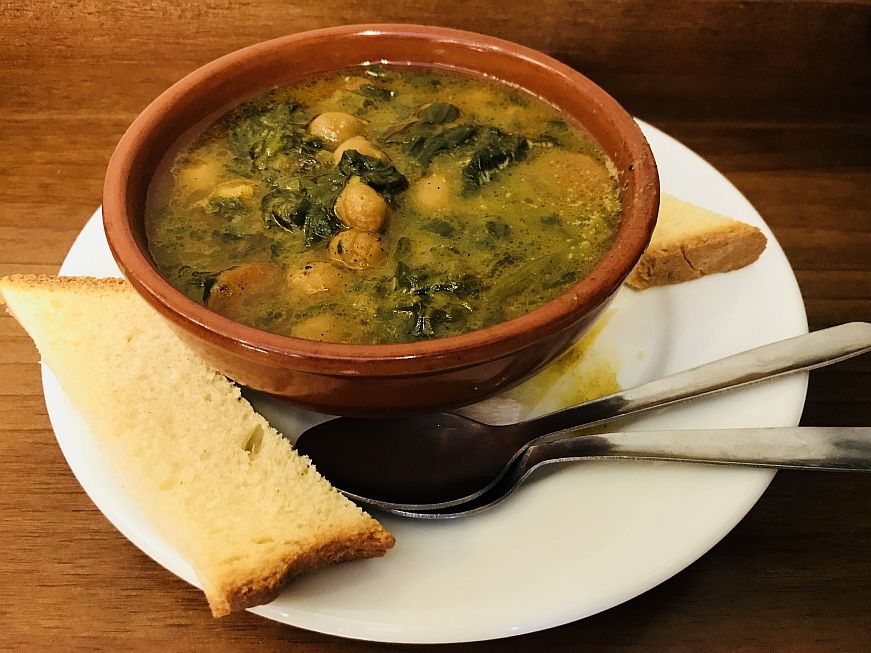 The best Tapas and Tapas Bars in Málaga
Who hasn't heard of them? Tapas are small dishes served in most bars and restaurants in Spain. They are particularly widespread and popular in Andalusia and Malaga. Tapas are eaten as appetizers or starters, or in a colourful mixture as a whole dinner. They are definitely a sign of "typical Spanish" cuisine, for example: Patatas Bravas, the famous Spanish tortilla, or croquettes in numerous variations. Eating tapas is a great way to try as much of the Spanish cuisine as possible during your Spanish language course. It's all about sharing and tasting the small dishes together with friends or family – often for little money!
Since tapas are such an essential part of Malaga's culture and you will certainly come across them again and again during your Spanish language course, we have put together a selection of restaurants and tapas for you to try out. Have fun and enjoy!
La Tranca
Super authentic, rustic tapas bar – full, loud and delicious! Here you can meet people from young to old every evening in a relaxed atmosphere.
Where?: Calle Carreteria, 93
What you have to try here: Pincho de Chorizo (grilled, flavourful sausage), Boquerones en vinagre (famous sardine-like fish from Málaga in vinegar)
Web: www.latranca.es
Casa Lola
One of the most popular places for tapas classics, very extensive menu – try it out! Allow some waiting time here.
Where?: Calle Granada 46
What you have to try here: Jamón Iberico, Manchego Cheese, Pimientos del Padrón (small green peppers in sea salt)
Web: tabernacasalola.com
KGB
This restaurant is even recommended by Michelin! Accordingly somewhat higher-priced, but worth every cent.
Where?: Calle Fresca 12
What you have to try here: Definitely the Mini Hamburguesita
Web: kgbmalaga.com
Taperia Cervantes
A restaurant well known in Malaga, has several restaurants in the same area of the city and yet they are all always full. Fancy menu and an absolutely high level of quality and finesse, here you can go out for a really chic meal. Reservations must be made in advance!
Where?: Calle Cárcer, 8
What you have to try here: Tartar de Atún (Tuna Tartar)
Bar Jamones
A completely inconspicuous shop, which does not necessarily invite you to stay for a long time, but surprises you with super tasty dishes. Perfect for the hunger in between!
Where?: Calle Carreteria 87
What you have to try here: the Carrillada is a must! (Pork cheeks cooked in red wine and cinnamon)
Web: Facebook Bar Jamones
Las Merchanas
Probably everyone in Malaga knows this name. Las Merchanas has become a classic among tapas bars, and many young Spaniards also romp around in front of the restaurant to eat. Cheap and good.
Where?: Calle Mosquera, 5
What you have to try here: Croquetas Caseras – Homemade croquettes of various kinds
Web: Facebook Taberna Las Merchanas
Mercado Atarazanas
The beautiful market hall of Malaga is also a great place to eat. Those who love seafood should not miss the small taperías of the market, which set up their tables directly in front of it.
Where?: Calle Atarazanas, 10
What you have to try here: Gambones en ajo (king prawns in garlic) and almejillas (small mussels)
Restaurante Las Acacias (Pedregalejo)
Not in the centre of Malaga, but in a beautiful part of the city that was once a small fishing village. Accordingly, the best fish and freshly caught seafood are still eaten here today. An absolute feast for the palate with a beautiful backdrop directly on the beach.
Where?: Paseo Maritimo el Pedregal, 90
What you have to try here: Paella with seafood (!) and changing, freshly caught fish from the grill. The sardine skewers are always available and are also highly recommended.