Spanish Course in Spain at AIFP:
Change Duration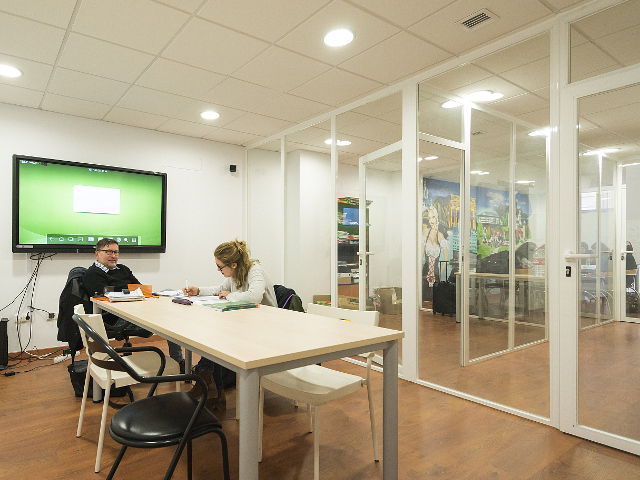 AIFP Classroom
With our Spanish courses we wish to achieve a high learning progress in a relatively short period of time. You will learn Spanish more effectively here in Spain than in your home country.
Therefore, a small amount of participants in a Spanish course is of special importance. The maximum number of students is 9, the average 4-6. The lessons are given in Spanish from the beginning, since the participants come from different countries to Spain.
The courses are for all ages from 16 years on. If you are interested in a Spanish course in Spain for younger students, please contact us.
We offer all levels from complete beginners to preparation of DELE exams and Telc exams.
You can determine the duration by simply filling in desired number of weeks you wish to participate in the registration form. The price for 3 weeks for example is calculated as follows: 2 weeks + 1 extra week.
After receiving your registration form, we will send you a confirmation with all the details you have booked. If you are not a complete beginner we will also send you a Spanish evaluation test to evaluate your level. Then, once you have arrived in Spain, on the first day of the course, you will have a short interview with one of our teachers so that we can put you in one of our 4 Spanish levels-courses.
Different courses:
Basically, you can choose between the general language courses (Intensive, Intensive-Plus) and special focused language course which can be done in the private part of our gold and silver courses or in the private classes (DELE exam preparation, Business Spanish and tailor made courses for groups). The Spanish & Flamenco course combines Spanish language with dancing classes.
A: Intensive-course, 4 lessons daily, max. 9 students
B: Intensive-plus-course, 4 spanish lessons as in course A + 2 lessons daily in groups of max. 4 students (more intensive, more vocabulary, practise, etc.)
C: Silver course: 4 lessons as in course A + 2 private classes (1-to-1) daily
D: Gold course: 4 lessons as in course A + 4 private classes (1-to-1) daily
E: Spanish and Flamenco: 4 lessons as in course A + 8 hours lessons weekly Flamenco dancing classes
F: Private classes: normally 20 / 30 or 40 lessons weekly in private classes (one-to-one) for general Spanish or for special taylor made topics

We offer four different levels with a maximum of nine people per group. The lessons last 45 minutes. In the first two lessons you will learn new structures, do exercises, correct your homework and work with the text book. In the third and the fourth lesson you will have another teacher focusing on your oral skills. You will practise what you have learned before, discuss, report and do listening / understanding exercises. Language is communication, this is very important for us.
We want you to speak!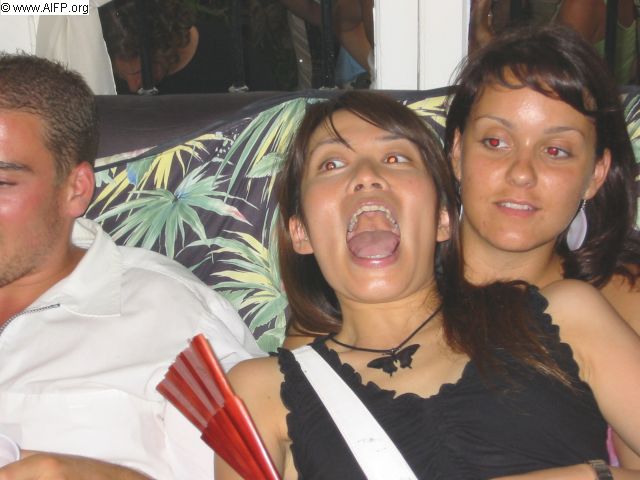 Have Fun!
In the Intensive-plus-course, in addition to the four group lessons (max. 9 students) daily, you can take advantage of 2 extra lessons a day in mini-groups of 2-4 students. We recommend it to people who can stay only for 2 or 3 weeks, to older students, to students who like to learn the maximum in a short time and to students with special interests. These two lessons are less structured so that the teacher can easily go through the details, focus on the students' interests and therefore improve your communicational skills.
Private lessons are available and give you the opportunity to work with topics and situations that are tailored to your individual needs.
In order to practise your communication and social skills, we especially offer for all our students extra lessons / activities with Spaniards.
While working out our teaching concept, we kept in mind the actual use of language. Listening and oral skills are our focus.
At the end of the course, you will receive a certificate from our school.
Dates:
Students with previous knowledge can start on any Monday. If you are a complete beginner please look at the dates for beginners.
Learn effectively!

Academia AIFP is member or accredited by:


Sprachkurs Spanisch in Spanien
-
Hiszpanskiego w hiszpanii
-
スペインでスペイン語を学ぶ
-
Sprachschule Spanien
Испанский в Испании
|
L´espagnol dans españa
Aprender alemán y cursos de alemán en Alemania
©
1996-2017 AIFP
- Academia AIFP | www.aifp.org
Calle Doña Enriqueta, 4, E-29007 Málaga, Spain. Tel: 0034/952227699 Fax: 0034/952609864